Why is remittance from Saudi Arabia falling?
Government must address use of unauthorised channels and migrants' skills gap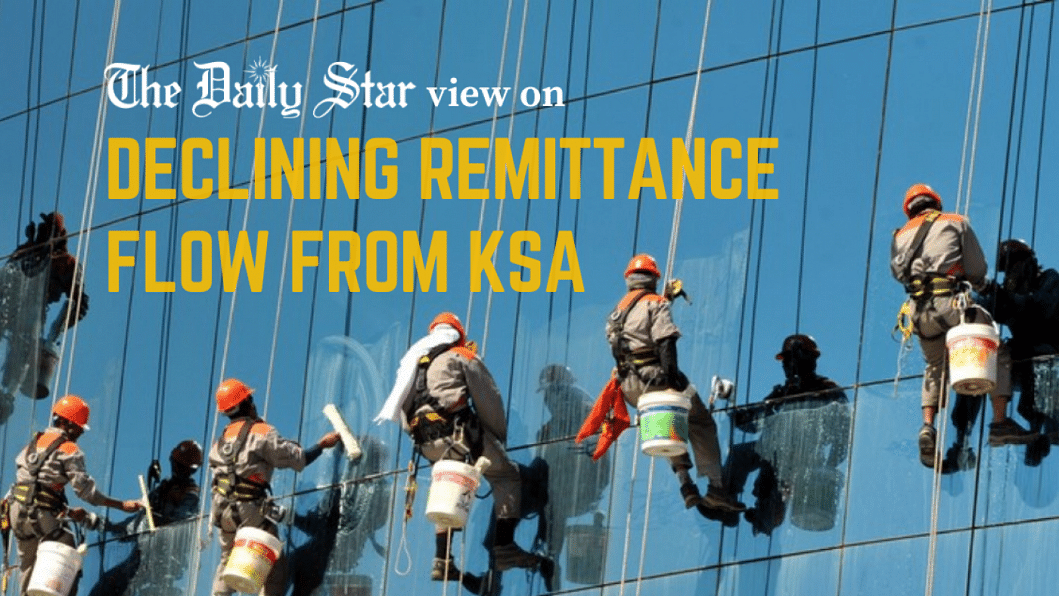 We are concerned about the downward trend of remittance inflow to Bangladesh from Saudi Arabia as seen over the last three years. According to Bangladesh Bank data, remittance earnings from Saudi Arabia was $5.7 billion in 2020-21. It dropped to $4.5 billion in 2021-22, and further to $3.7 billion in 2022-23. This is despite the fact that the outflow of migrant workers from Bangladesh to the Gulf state surged around four times during this time – while some 161,726 Bangladeshis went there in 2020, the number rose to 612,418 in 2022, according to the Bureau of Manpower, Employment and Training (BMET). For a country overly dependent on remittance earnings, the situation is indeed concerning.
Economists have identified a number of factors behind it. According to them, the growing use of hundi in recent years could be the main reason behind the fall in remittance earnings. Sending less-skilled workers to Saudi Arabia is another factor. According to a report by the Refugee and Migratory Movements Research Unit (RMMRU), about 78.64 percent of workers who migrated abroad from Bangladesh in 2022 were less skilled. Naturally, less-skilled workers get lower wages than skilled ones. Reportedly, many of our workers are also without jobs in Saudi Arabia, while some have become victims of cheating. The central bank has also observed that the global economic uncertainty and high inflation have adversely affected migrants' real incomes and consequently remittance inflow.
This demands a proper response from the government if we are to get the expected remittance from Saudi Arabia. Since hundi is a major reason behind the decline, the government must address migrants' continued dependence on such channels and take measures accordingly. Currently, migrants get a 2.5 percent cash incentive when they send money through the banking channel. The government may consider increasing the rate of this incentive to attract more formal remitters. Equally importantly, the authorities need to give more importance to enhancing our workers' skills level before they go abroad, which can definitely bring some positive results.