Progressive Bangladeshi Cuisine by AxR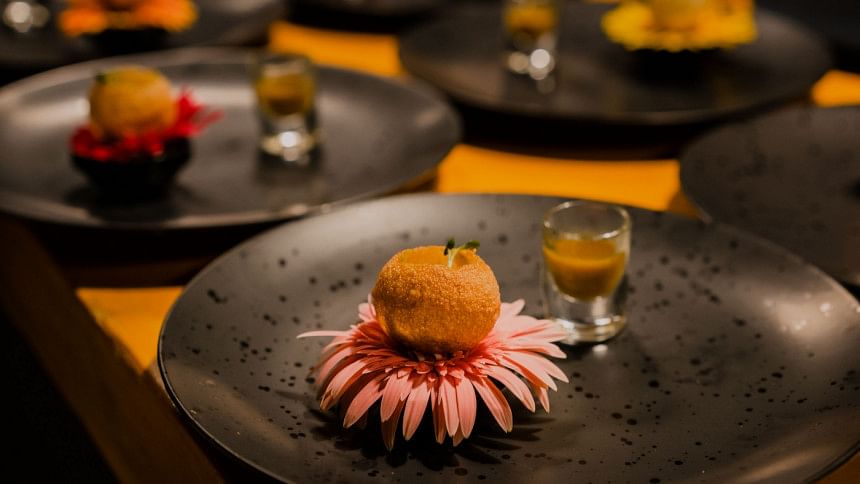 The Bangladeshi cuisine that we know today is strongly tied to its roots, with minimal ingredients and simple cooking methods. But, using our simple ingredients and everyday food, Bangladeshi cuisine can be taken to elevated heights, to that of even fine dining. With this concept in mind, Chef Rashedul Hasan, participant at MasterChef Australia 2017 and Chef Arpon Changma, one of the founders at B.B.Q. Express came together in a collaboration to take the Dhaka crowd through an exquisite culinary expedition.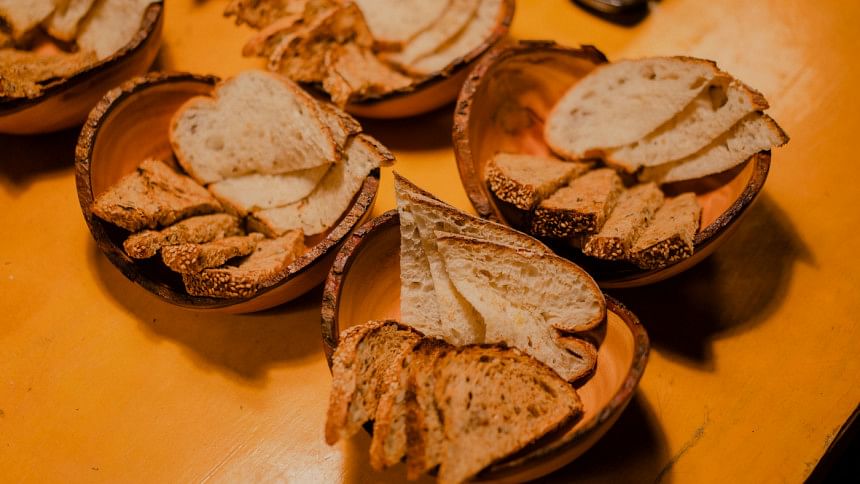 The fine-dining event was hosted in CERO on 19 – 20 August 2023, on a pre-booking basis, with tickets selling out in a day! After all, two renowned faces in the culinary industry were the ones behind the scenes. Chef Rashedul Hasan won hearts for being the first Bangladeshi participant in MasterChef Australia. Growing up in Dhaka, he has fond memories of his family cooking fresh meals, which sparked his interest in cooking.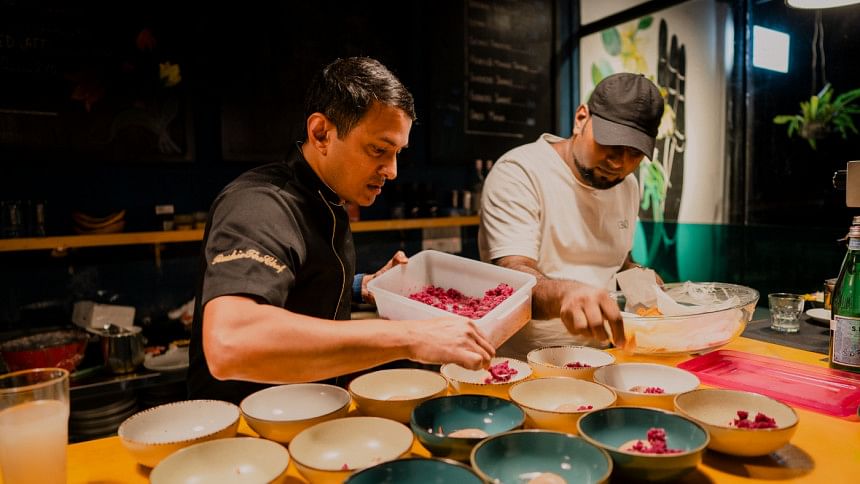 On the other hand, hailing from the hill tracts, Chef Arpon is making an identity for himself and Bangladeshi cuisine not only nationally but internationally as well. The fine dining experience that they brought together was one-of-a-kind, using local and seasonal produce with all the items having a backstory behind them, focusing essentially on "progressive Bangladeshi cuisine."
"Both our stories are about modernising food and how we are progressing the Bangladeshi cuisine, and this is what we intend to show the Dhaka crowd. Progressive cuisine is essentially keeping the core of a cuisine and injecting aspects from other cuisines in it, a combination that comes about naturally," explained Chef Rashedul.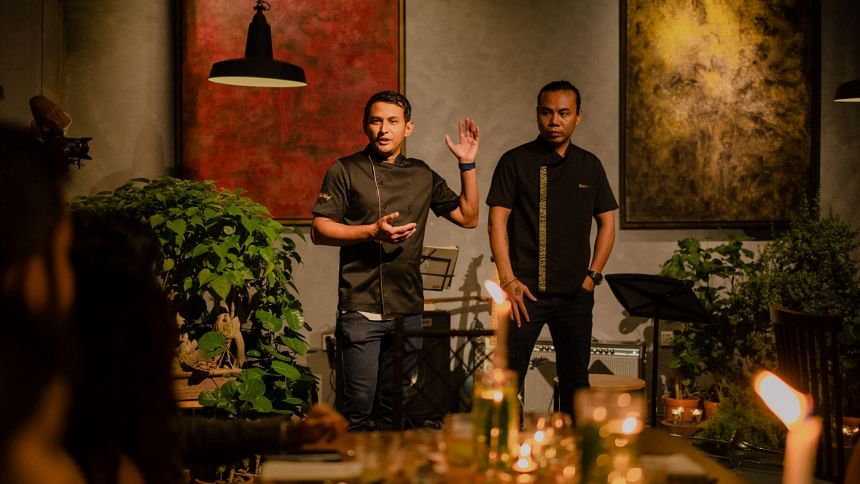 This was truly reflected in each of the items in the menu. Starting off appetizers with charcoal butter, bread, and anchovies, this was Chef Rashedul's recipe and a respectful nod to the simple meal with warm rice and remnants of butter which a lot of households love to have. Grey in appearance with herbs popping, this was a delight. 
The next item comes from Chef Arpon – resonating with our love for fuchka, he created a version of his own. The filling of traditional fuchka was swapped for a flavoursome guacamole, the shell resting on a delicate flower and served with paglapani dip that burst with flavours in the mouth. The next set of appetizers included kamranga squid, which had noodles made of squid in a very refreshing starfruit broth.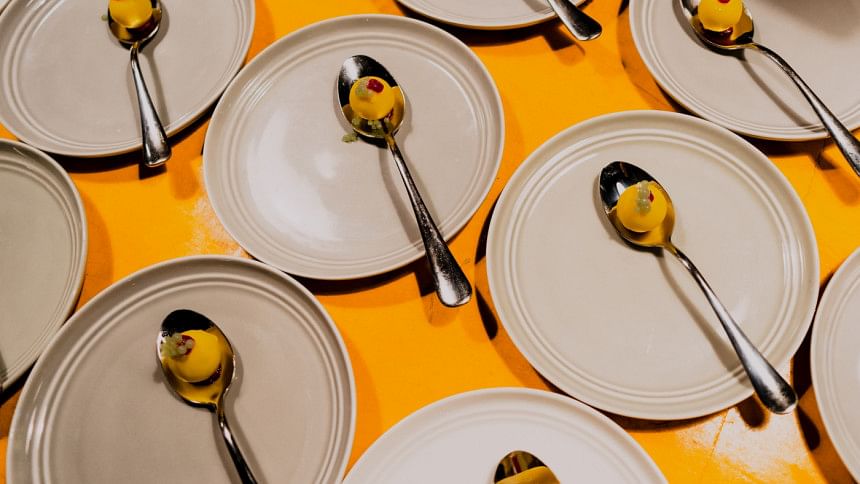 The last appetizer of the night was fish hebang and tempura. Hebang, a very common cooking method of the hill tracts, where food is cooked inside banana leaves, is a true representation of the diverse cooking methods that we have. After the delectable appetizers came a refreshing palate cleanser – a fruity and light sorbet made with our seasonal lotkon!
Moving on to the mains, the first serving was a malai curry open lasagne – a dish that has all the goodness of a Bengali curry but served with handmade pasta and a hint of Western cuisine with burnt butter sage – which all worked together very well. The second main dish of the night was mezbani beef truffle, another combination of Bengali mezban and western truffle that complemented each other wonderfully.
"These dishes and cooking methods such as mezban and hebang are very close to my heart – they have nostalgic stories from the past and the richness of tradition," shared Chef Arpon.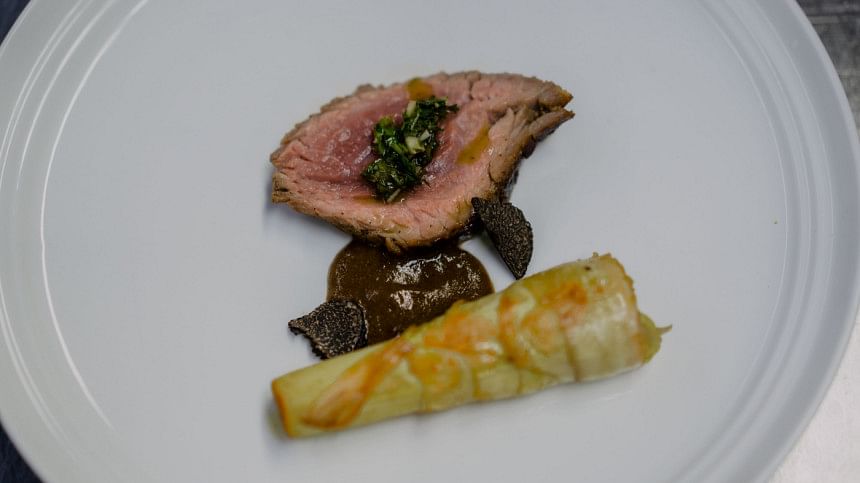 The second palate cleanser, mango bursts, seemed like something straight out of the MasterChef kitchen. Made of a white chocolate sphere and garnished with starfruit pearls on top, which reveals a sweet and sour mango mix and jam gel when cracked open – truly tantalising to the senses.
The ultimate gastronomical experience ended with a couple of desserts – payesh and roselle, that has the perfect balance between sweet and sour. And jam chocolate, consisting of chocolate gelato, smoked chocolate sauce, jam granita, and honeycomb, paying homage to our local ingredients.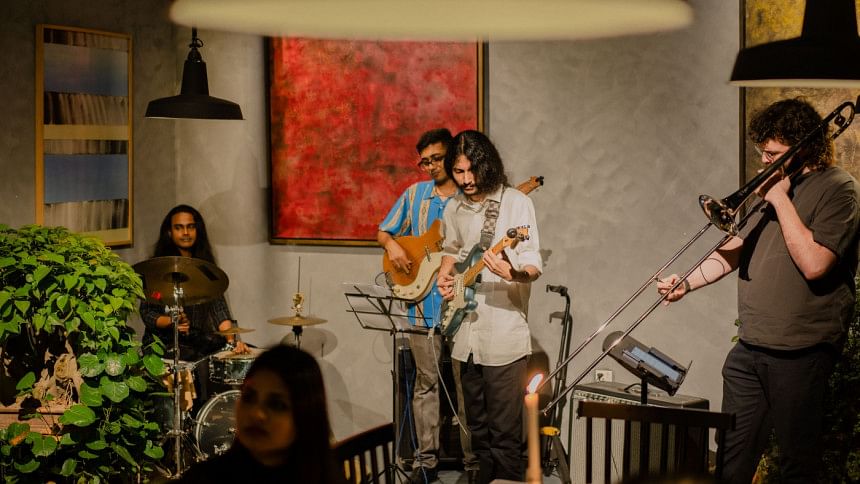 The ambiance at CERO enhanced the overall experience of the guests, with the tables lit up by candles and adorned with flowers. The melodious tunes played by Imran Ahmed and band in the background hushed down the chitter and chatter. Joyful conversations, extraordinary food, and exceptional hospitality are what made the event worthwhile.