Part of flood control dyke collapses in Lalmonirhat
Several hundred farmer families at risk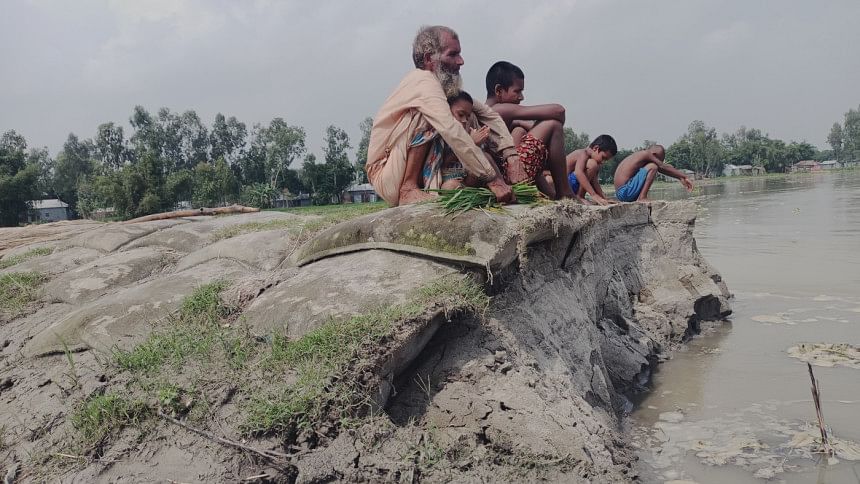 About 100m of the 300-metre earthen flood control embankment along the Teestahas collapsed in Lalmonirhat's Aditmari upazila due to strong currents in the river.
The incident happened in Gobordhan village yesterday morning. The other part of thelevee is also on the verge of collapse. This has put several hundred farmer families at risk, reports our Lalmonirhat correspondent.
Lalmonirhat WDB Executive Engineer Shunil Kumar told journalists that villagers collected funds and built the dyke themselves four years ago.
Farmer Matiar Rahman said, "The embankment has been protecting us from floods and river erosion. About 100 metres of the barrier collapsed today. The rest of the dyke is gradually disappearing into the Teesta.
"If the entire embankment is devoured by the river, our arable land will too sandy for cultivation. Our village may be hit by erosion," he said.
Mizanur Rahman, another farmer, said, "If the dyke is not protected, several hundred farmer families in the village will be badly affected."
Local union parishad member Matiar Rahman Mati said the Water Development Board (WDB) helped the villagers by providing over 1,000 geo bags. Those bags were filled with sand and dumped along the river bank, he added.
"A part of the levee has collapsed. The Water Development Board has been informed about this, but they are yet to take any action."
Shunil Kumar said due to strong currents in the Teesta at this point, the dyke cannot be saved even by dumping sand-filled geo bags. A decision will be taken to protect the dyke once the water recedes.