Humayun Ahmed and the language of Bangladeshi novels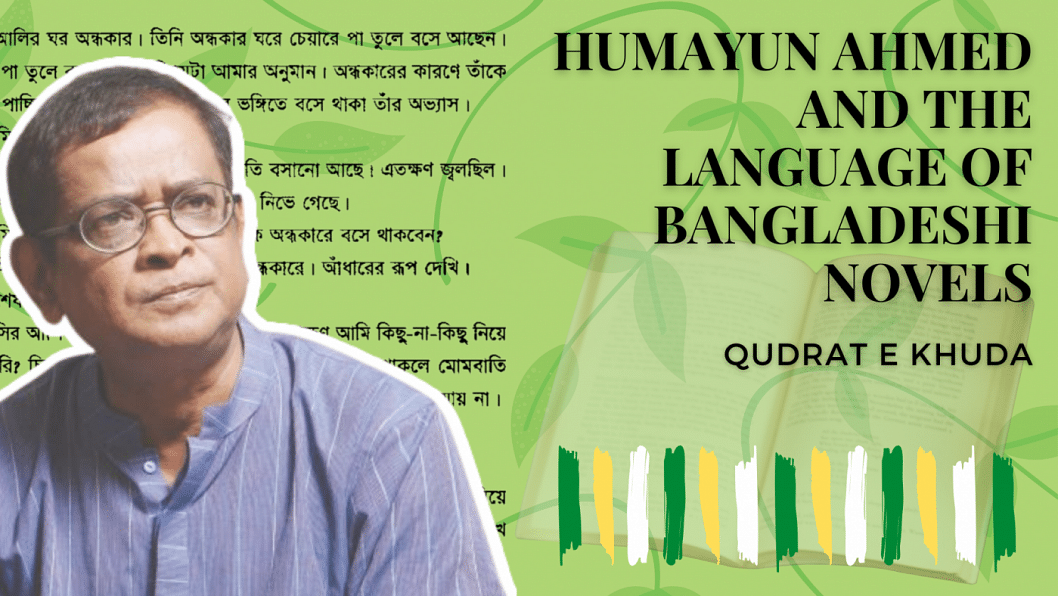 Whether one reads Humayun Ahmed's work through a critical lens or otherwise, what they cannot deny is the individuality of their language, their simple, modern Bangla. 
"This is one of his strategies to draw in and hold onto his readers…", Gholam Murshid stated, "he has, for many years, mastered a kind of language that flows easily. One doesn't stumble while reading his language". Murshid also criticised the language used by some novelists of "our country", saying, "One of the major weaknesses of our country's fiction is its language, especially that of dialogues... Many writers are not aware whether their language is actually easily comprehensible or not; they cannot judge if it sounds like everyday language or not".
Gholam Murshid's comments are echoed by most of our reader-critics. But it fails to identify Humayun's achievements, innovation, and contribution. And for this, one must look at the history of language in the novels of Bangladesh.
It would not be an exaggeration to say that the Bangladeshi novel was born from the womb of the novels of Kolkata. And yet, from 1971 onwards, a new kind of tone can be found in the lives they depict—in their crises, cultures, atmospheres, etc. Still, in terms of language, they are very close to the Bengali novel that was born in Kolkata: their language is visibly dominated by Sanskrit; an extra "bookish" weight can be sensed in their phrasing and speech.
Syed Waliullah, who is remembered in the dawn of the history of Bangladeshi novels, used in his novels language that is innocent, brutal, restrained, artful. Very few novelists in Bangladesh have been able to speak such heartbreaking words as quietly as him. Yet, the language of his narratives is visually rich. The construction of his sentences is similar to that of Sanskrit—complex and firm. Despite the use of dialect from a particular region of East Bengal in his dialogues, the novelist's narration adheres to the traditional linguistic structure of Bengali literature.
Shawkat Osman is another pioneer of Bangladeshi novels. In his novels, language experiences both vandalism and resilience. He mixed unfamiliar or Arabic-Persian words with Sanskrit words. One might even say that his use of language was exaggerated. The language of most Bangladeshi novelists, including Shawkat Ali or Syed Shamsul Haque, is hierarchical, imposingly poetic, elitist, and complex. The language in the novels of most of these novelists of Bangladesh, due to the partiality of the subjects, sometimes because of the linguistic tradition they grew up with, sometimes because of the opacity of the sense of life, could not become a companion for many people in their day to day lives. The language wasn't contemporary—and this is a crisis that Bangladeshi creative writers have struggled with beyond the confines of the novel; in all cases, they have failed to establish their own distinct language with the exception of one or two writers.
Ahmad Sofa identifies two problems with the use of language by East Bengal writers. First, that the original language structure inherited before the division that came in the name of Islam, was destroyed. That is, in an attempt to create distinctiveness, enough Arabic-Persian words have been incorporated that are not relevant to Bengali people, nor were they common in the speeches of East Bengal. Second, and in response to that, "progressive" writers have "revived the middle-class protagonists of Kolkata". That is, they use the language structures of Kolkata without any kind of change.
Humayun Ahmed grew up in the midst of hyper-realism and linguistic history, while studying novels. But he did not step towards either of these directions. Rather, he tried to reduce the distance between our oral and written language and thus bring the novel closer to his readers. 
One of the visible changes in the Bangla language as a result of colonialism has been syntax. Bangla was originally adapted from English syntax by educated middle-class creative writers based in Kolkata. As a result, the prevalence of complex and compound sentences can be seen in Bangla sentence structures. The manner of forming dialects has also been under the influence of colonial language on Bangla. 
However, the identifying quality of the Bangla language before the 19th century was that of simple sentences, through which, for 600 years, its speakers had expressed all their simple and complex emotions. Humayun Ahmed practised such prose by following his own style of sentence construction. The use of complex and compound sentences is less noticeable. And he seems to have consciously avoided the influence of colonial era syntax in his phrases. A big feature of his writing was to break up thoughts and ideas into several small sentences.  
His written language came close to spoken language due to the primitive and original style of Bengali syntax—simple sentence structures. And syntax deserves to be considered as one of the vital criteria of language construction because common people communicate in simple sentences, without the excess use of sub-clauses. As a result, the abundance of simple sentences in Ahmed's novels makes them accessible to the common reader. 
Was he, then, a sceptic or ignorant of Sanskrit in his choice of words? No, he was an originalist of poetic language. He used a significant amount of Sanskrit words in places, depending on the depth and poetics of the expression. They do not feel contrived or lifeless, but natural. Coupled with this quality is the simple prose style, without allusions, making the language of Ahmed's novels intimate and close to oral language.
There is a peculiarity in his narrative style. This specialty comes from perspective. Humayun Ahmed saw the same subject from different perspectives; and he did not make dense judgments about the subject he decided to look at. He was as sincere to the bad as he was to the good. Only great artists have this quality. When he described a subject, he did so from the perspective of the relevant character, by removing himself as much as possible. As a result, the reader accepts the author's description as sincere, with the touch of the character's own soulfulness. This lends a quality of verisimilitude to Humayun Ahmed's language.
Humour, too, occupies a large place in his work. He was disappointed by the lack of it in Bangladeshi literature. Among all branches of literature, the novel is the closest to life, but the novels of Bangladesh are written without humour, a major component of our everyday life. And one of the characteristics of humour is that it is contagious. Therefore, in most cases, the language of humour must be easy to understand across a mass audience—using words that are simple and expressive. They must breathe fresh air into a language, create a kind of lighthearted detachment between environment and language. The presence of humour in Humayun Ahmed's novels gave his language levity.
He has freed the language of Bengali novels from the bookish tone and extravagance. Very pertinently one may question the validity and cogency of Humayun's plain language. I believe that Ahmed carried the light and the heavy—all that he felt—on the back of this language. His language is not broken or twisted. He always worked on subjects within his own control, he didn't veer too far out. Having such knowledge is very important for an artist.
Translated from Bangla by Maisha Syeda.