Coastal Florida town battens down hatches as Hurricane Idalia looms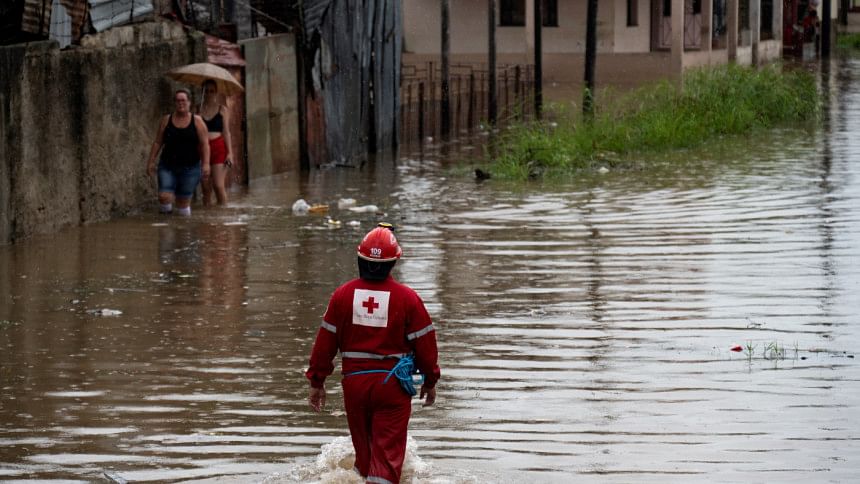 John Paul Nohelj has lived in Steinhatchee for two decades. For him, the northwest Florida town set among marshes and forests is paradise on Earth, and he won't leave -- despite being in the crosshairs of a churning hurricane.
Little does he care about the evacuation order issued by authorities for his county and several others along Florida's Gulf coast, where Hurricane Idalia is forecast to roar ashore early Wednesday.
Sitting on the porch of his creaky wooden home, Nohelj appears unfazed by what could be a looming disaster.
"I've lived on the coast of Florida my whole life and this is where I love to be," the 71-year-old, who breathes with the help of an oxygen tank, tells AFP Tuesday.
"If you live near the water, you're gonna get a wet butt once in a while," he says, downplaying the hurricane threat that has many of his neighbors scrambling to evacuate to safer regions.
Steinhatchee is a quiet pocket of Florida. It has some 1,000 residents, lush trees, beautiful wooden homes and abundant water, notably the river that runs through town and into the nearby Gulf of Mexico.
Idalia is forecast to strengthen into a major Category 3 hurricane by early Wednesday, gaining a force that the National Hurricane Center (NHC) warns could lead to catastrophic destruction.
Dozens of people in town were finalizing preparations before the storm made landfall. Most are evacuating the town and heading inland -- but not before trying to salvage some of their belongings and fortify their homes before leaving.
Stephanie Moon, 37, has loaded as much furniture as she can into a moving truck with the help of friends. She lives alone across the river with her dog Molly, and decided pull up stakes and head to Georgia, the state just north of Florida where she aims to ride out the storm with relatives.
"I just hope our beautiful little town is still here after the hurricane, and that we come back to hopefully not a whole lot of devastation," she says.
In the town center, several residents hustle in and out of the only grocery store still open, Maddie's Market, next to a gas station. Like many houses, the storefront's windows are boarded up with plywood to protect them from gale-force winds.
But there is another fear here: flooding.
Storm surges could reach as high as 15 feet (4.5 meters) in this rural region of Florida known as the Big Bend.
Jody Griffis, co-owner of a local high and dry boat storage facility, joined several employees in a race against the clock.
They used forklifts to raise 25 boats to dry slots inside a huge building -- out of danger from potentially rising waters.
"I hope that this is still there when I get back on Thursday, and that nobody gets hurt," said the 56-year-old Griffis, who planned on retreating to safer ground but vowed to return for the inevitable post-hurricane clean-up.
Such a commitment to the community is a hallmark of Steinhatchee, several residents said -- a value that will soon be put to the test with the hurricane's imminent passage.