Bilateral trade to rise if EPA is signed with Korea
Korean envoy says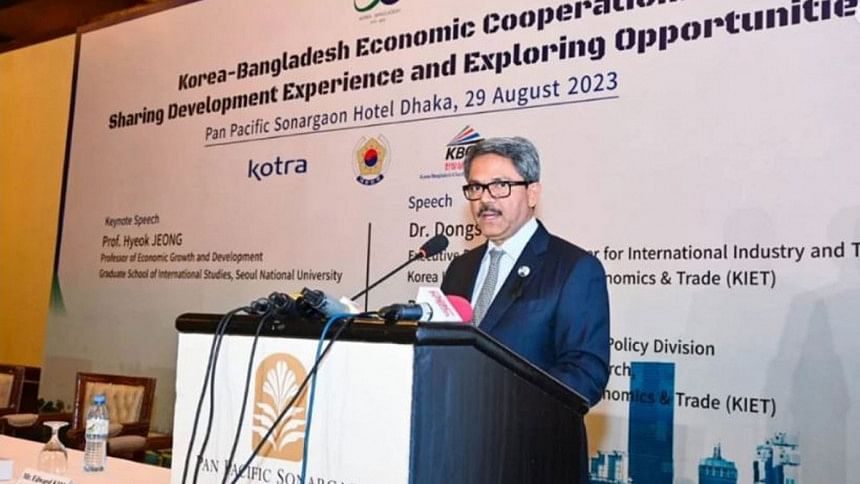 Bangladesh's bilateral trade and investment with Korea will increase if an economic partnership agreement (EPA) is signed, Korean Ambassador to Bangladesh Park Young-sik said yesterday.
The envoy spoke at a discussion on "Korea-Bangladesh Economic Cooperation" at Pan Pacific Sonargaon in Dhaka to celebrate the 50th anniversary of establishing diplomatic relations between the two nations.
Korean embassy in Dhaka, Korea Trade-Investment Promotion Agency (KOTRA) and Korea Bangladesh Chamber of Commerce and Industry (KBCCI) jointly organised the event.
Bangladesh has been negotiating with its major trading partners, including Korea, to sign trade pacts to retain the preferential trade benefits after the country's graduation to a developing nation in 2026.
The ambassador said Korea is the fifth largest investor in Bangladesh and recently the world's 10th largest economy has turned up as a major trading partner for Bangladesh in terms of export, import and investment.
Korea's RMG sector entered Bangladesh in late 1970s and the most recent Korean investments were made in the manufacturing industries such as automobile, mobile phones and electronics in joint ventures with the local partners, Young-sik said.
On export front, Korea is becoming a major export destination for Bangladeshi products, especially for the apparels because of competitive prices.
The merchandise export to Korea grew by 122.71 percent in eight years to $623.79 million in 2022-23 fiscal year, up from $280.09 million in 2015-16 fiscal year, according to data from the Export Promotion Bureau.
The partnership between Bangladesh's Desh Garment and Korea's Daewoo Corporation in 1979 planted the seed of Bangladesh's garment industry, the Korean envoy said.
Since then, bilateral economic relations have flourished in many ways, benefiting both the economies and the two-way trade surpassed $3 billion-dollar mark last year for the first time, he said.
Before the LDC graduation in 2026, Bangladesh government needs to pay attention to increase productivity of the manufacturing sector, he said.
Young-sik also urged Bangladesh to form policies to stop smuggling of mobile phones as illegally imported handsets meet 50 percent of its demand in the country.
The manufacturing sector of Bangladesh should produce more cars locally, as 85 percent of the cars sold here are reconditioned, the ambassador said.
State Minister for Foreign Affairs Shahriar Alam said currently Bangladesh enjoys duty-benefit on export to Korea for 95 percent or over 4,000 of its products under the Asia Pacific Trade Agreement.
Alam urged the Korean government for further expansion of the product coverage under the duty benefit, especially beyond 2026.
He said Japan will also review its generalised system of preferences by June 2024 so that the duty benefit to Bangladesh can be extended for 10 more years up to 2034.
Ahsan H Mansur, executive director of the Policy Research Institute, said a massive investment is needed in the education sector for building a smart nation.
Bangladesh should utilise its demographic dividend to increase industrial productivity, he said.
He also suggested for building smart, updated, green and sustainable industries to build a smart Bangladesh, Mansur also said.
Some 68 Korean companies have so far registered with the Bangladesh Investment Development Authority (Bida), said Shah Mohammad Mahboob, director general for international investment promotion of the Bida.
Over 70 percent of the foreign investments Bangladesh received last year were actually reinvestments made by the foreign companies, which highlights Bangladesh's popularity as a secured place for investment, he said.
Hyeok JEONG, a professor of the Graduate School of International Studies of the Seoul National University, presented the keynote paper at the event, where Zunaid Ahmed Palak, state minister for ICT, also spoke.