Bangladesh, a constant victim of MLMs and ponzi schemes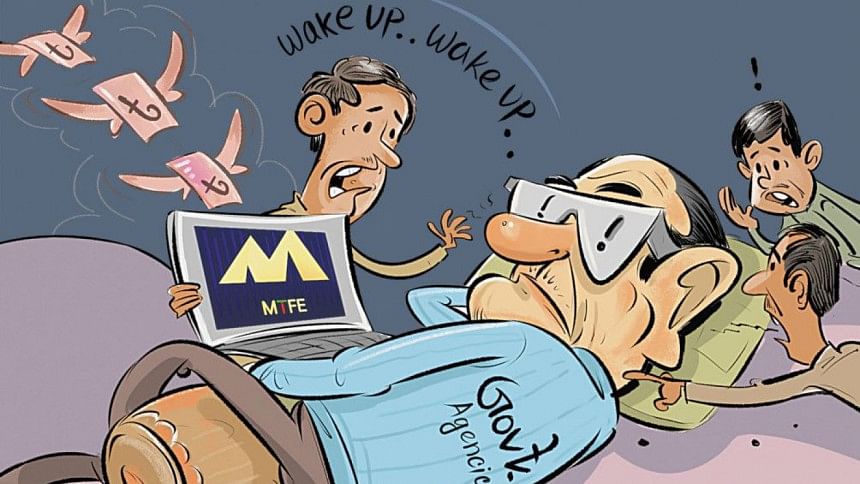 Bangladesh's troubles with financial crimes seem to have no end in sight. Apart from the persistent problem of rampant money laundering, over the years, fraudulent e-commerce sites and ponzi schemes have added another dimension to the country's woes. According to the commerce ministry, multi-level marketing (MLM) and e-commerce schemes have robbed around 10 million victims of more than Tk 22,000 crore. The latest in this damaging string of financial crimes is the Metaverse Foreign Exchange (MTFE) scandal, which has snatched away the life savings of its vulnerable "clients."
Despite such crimes getting bigger in scale and more vicious with time, we have miserably failed to curb them. Let's look at the case of MTFE since it is currently making headlines.
Metaverse Foreign Exchange Group Incorporated described itself as a company based in Canada and Dubai, and started operations in Bangladesh this January. While it did not have an office in Bangladesh, the company promoted its app, MTFE, through social media platforms, including Facebook and YouTube. As MTFE conducted transactions virtually in financial markets, including stocks and cryptocurrencies, it also leveraged the Bangladesh Bank and other financial transaction systems, including mobile financial services (MFS), to make transactions.
Now, the question arises: how did the authorities allow such a large-scale ponzi scheme to run for so many months? On August 9, Bangladesh Financial Intelligence Unit (BFIU), in a formal statement, said illegal transactions have increased in recent years. So, why were no steps taken earlier? Had the financial watchdog shared this information with relevant authorities on time, perhaps MTFE would not have dared to spread its criminal web with such speed. Moreover, what was the Cyber Crime Investigation Division doing during all this time?
If the central bank can do nothing to regulate the flow of money, especially in regards to suspicious transactions, what really is its role in the greater ecosystem?
What is even more alarming is how all relevant authorities are now trying to wipe their hands off this issue by dumping the blame on each other. For example, the commerce ministry said the MTFE scam falls outside its jurisdiction, and the central bank pointed fingers at the Bangladesh Telecommunications Regulatory Commission (BTRC). The BTRC chairman volleyed the ball back to the central bank's court, saying that "the issue of MTFE is related to financial transactions." The Directorate of National Consumers Rights Protection (DNCRP) pointed to the BFIU, as it is responsible for investigating suspicious transactions, illicit financial flows, and similar activities.
However, amidst the cacophony of so many voices, the statement that stood out was of Bangladesh Bank Executive Director Mezbaul Haque. He said, "I read about the MTFE scam in the newspapers. Legal channels are being used to carry out illegal business. It is the people's right to use their money as they will. Bangladesh Bank can't say anything about that."
There are multiple problems with this statement. First of all, how can the central bank of a country not know about such a scam besides what its employees have read in newspapers? Doesn't the BFIU inform it of major developments? Secondly, how can the BB have nothing to say when illegal businesses are using legal channels to carry out financial crimes? Of course, it is the people's money and their individual decisions. But if the central bank can do nothing to regulate the flow of money, especially in regards to suspicious transactions, what really is its role in the greater ecosystem?
The BFIU's statement is also unsatisfactory. The authority said it has shut down close to a thousand apps, and is working to raise awareness among people through newspaper advertisements. But it has also pointed fingers at the victims, saying that "people are not learning from history – this is a big challenge." But the question remains: why couldn't it stop a transnational gang from looting innocent people?
But let's also discuss this lack of awareness. A large number of victims of the MTFE ponzi scheme are from the fringes, including the upazilas. Many of them are not literate – or are semi-literate, at best – and are certainly not equipped with enough knowledge about safe digital interactions or transactions. As a result, they have become easy targets.
With digital technology, mobile financial services, and the internet penetrating rural areas, it has become imperative to educate the end users about internet safety and safe financial transactions. The Information and Communication Technology Division could perhaps initiate robust projects to educate these people about the pitfalls of digital technology and how to best navigate around them. Clearly, the ongoing cybersecurity education programmes are not yielding desired results.
Coming back to the core issue of victim-blaming, the relevant authorities should refrain from such disgraceful activities and own up to their responsibilities. Such blame games only expose the discord among the agencies and lead to negative perceptions about them among common people.
It is unfortunate that the authorities remain shrouded in confusion when it comes to preventing financial crimes; they themselves must be aware of this much. These events should jolt them and, hopefully, generate enough initiative to strengthen cybersecurity and catch financial criminals.
Tasneem Tayeb is a columnist for The Daily Star. Her X handle is @tasneem_tayeb