Abdul Jabbar's soulful voice had a profound impact on me: Syed Abdul Hadi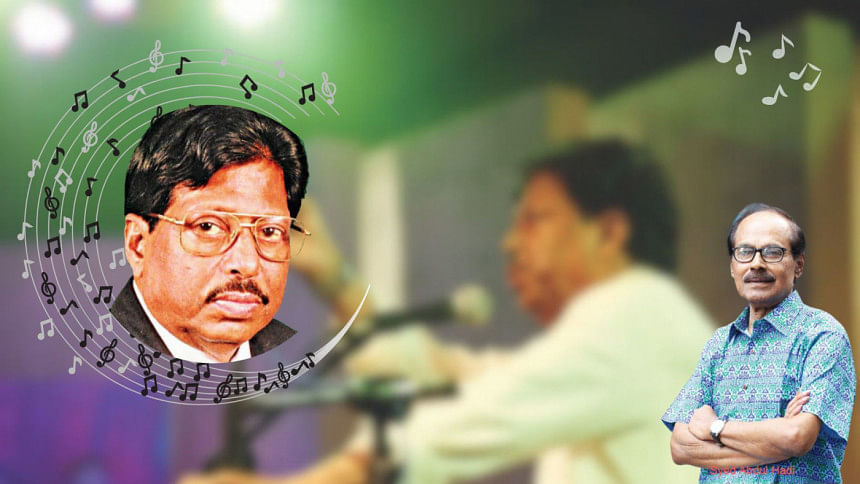 "Tumi Ki Dekhechho Kobhu Jiboner Porajoy", "Salam Salam Hajar Salam", and "Joy Bangla, Banglar Joy" stand proudly as three of the most beloved songs to have graced the top 20 all-time Bangla songs list in the 2006 survey conducted by BBC Bangla. These timeless melodies were brought to life by the inimitable voice of the Bangladeshi musical legend, Abdul Jabbar.
The Swadhin Bangla Betar Kendra artiste, whose soulful voice touched the hearts of millions, not only left an indelible mark on the Bangladeshi music industry but also played a significant role in the nation's history as a freedom fighter. 
On this solemn day, we pause to remember and pay tribute to the singer as we mark the anniversary of his passing. 
Syed Abdul Hadi, an associate and close friend of Jabbar, fondly reminisced about their shared love for music and their deep bond. "Abdul Jabbar's soulful voice not only mesmerised countless listeners but also had a profound impact on me. Our musical journeys began around the same period," he told the Daily Star.
"Although he was slightly older than me, our relationship was akin to that of close friends. We spent countless hours in conversation, sharing stories, and gracing the airwaves of Bangladesh Betar with our songs. There was a uniqueness to his voice that set it apart," Abdul Hadi added.
During the Liberation War, Jabbar and Hadi jointly formed the Shilpi Sangram Parishad, uniting artists from diverse backgrounds for collaborative performances. "I remember listening to Jabbar's songs on Swadhin Bangla Betar during those days.  Alongside the patriotic tunes that filled the airwaves, Jabbar's rendition of love songs was also filled with emotions," Hadi expressed.
Born on November 7, 1938, in Kushtia, Abdul Jabbar's musical journey started when he joined Radio Pakistan as an artiste in 1958. From there, he ventured into the world of cinema, making his debut as a playback singer in 1962 with music director Robin Ghosh. By 1964, his name was etched in the annals of BTV as a recognised artiste.
In 1968, he lent his voice to Zahir Raihan's directorial film "Shongom". Throughout the 1960s and 1970s, Abdul Jabbar contributed to numerous films. His collaboration with renowned filmmakers and composers resulted in a string of timeless hits. One of his most notable renditions was "Tumi Ki Dekhechho Kobhu" in Narayan Ghosh Mita's film "Eto Tuku Asha", released in 1968.
During the same year, he delivered two songs that became massive hits – "Pitch Dhala Ei Pathtare" in the film "Pitch Dhala Path" and "Shuchorita Jeonako Kichu" in "Deuer Por Deu". Amongst his other popular songs, "Ore Neel Doriya Amay De Re De Chhariya" and "Shudhu Gaan Geye Porichoy" still mesmerise the audience, evoking deep emotions. In 2008, after a five-decade career of playback singing, he started working on his only album "Kothay Amar Neel Doriya", which was released in 2017. The songs of the album are written by lyricist Md Amirul Islam and composed by Md Golam Sarwar.
During the Bangladesh Liberation War, Abdul Jabbar boosted the morale and inspiration of freedom fighters with his voice. His songs, such as "Salam Salam Hajar Salam" and "Joy Bangla Banglar Joy", became anthems of the war effort, motivating countless individuals. His collaboration with Indian playback singer Hemanta Mukhopadhyay, working together in Mumbai, played a pivotal role in building international support for Bangladesh's struggle for independence.
His contributions to the cause earned him numerous awards and accolades, including the Bangabandhu Gold Medal (1973), Ekushey Padak (1980), Independence Award (1996), Bachsas Award (2003), Citycell-Channel i Music Awards-Lifetime Achievement (2011), and the Zahir Raihan Film Award.